DeGeneres' hosting duties included serving the audience pizza from a delivery box in 2014 along with taking a selfie which included Hollywood royalty such as Meryl Streep, Julia Roberts, Jennifer Lawrence and Brad Pitt.

This year's ceremony saw Kimmel take an unlikely group including Gal Gadot, Lin-Manuel Miranda, Mark Hamill, Lupita Nyong'o to the cinema next door, to thank them for going to see movies.
Less successful Oscars capers have included Seth McFarlane's song We Saw Your Boobs in 2013, which some commentators said revealed "how little he thinks of women" and angered stars including Jane Fonda and Lena Dunham.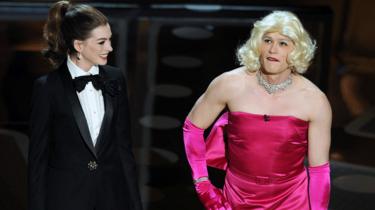 James Franco and Anne Hathaway hosted in 2011, in what was seen by many as an attempt to draw a younger audience.
But the lack of spark between them has led to them appearing on several "awkward moments in Oscars history" lists.
This year's ceremony will also see the postponement of the controversial "popular film" category.
It was meant to be introduced in 2019 but the academy's CEO said she had "recognised the need for further discussion" with its members about the proposal first.
The Oscars will take place in Los Angeles on 24 February 2019.